Introduction
Public procurement has, in principle, considerable potential to improve the sustainability of food production and consumption both directly and indirectly. The sizeable market share of public meals allows the public sector to drive demand for sustainable products and services and lead by example (see figure). This makes public procurement a key area of focus in sustainability policies like the Sustainable Development Goals, the Farm to Fork Strategy, and the Organic Action Plan, and prompted the creation of specific Green Public Procurement criteria (Sustainability of public meals, Sustainability and food in a policy context).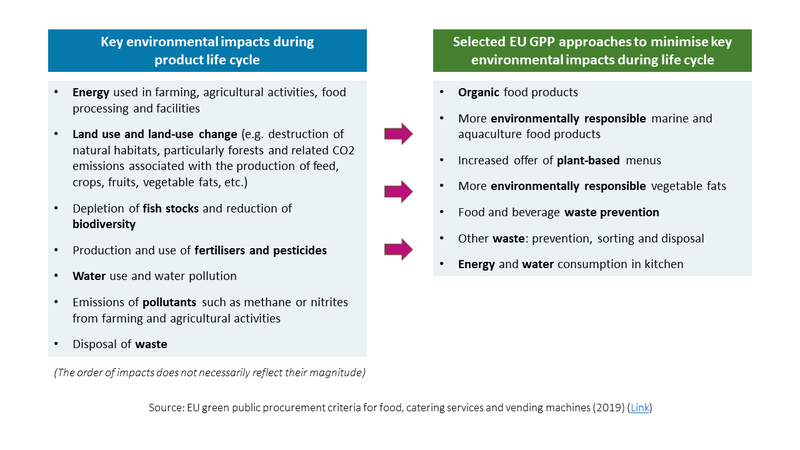 This figure was taken from the document on the EU's Green Public Procurement criteria for food, catering services and vending machines. The left side shows the key environmental impacts of the product group food, catering services and vending machines through their life cycle, from production to disposal. On the right side are the approaches included in the GPP criteria to tackle these impacts.
Public procurement for sustainable meals includes offering healthy and tasty food with lower environmental impact, reducing food waste, and raising customers' awareness of more sustainable eating habits, as well as using eco-labelled chemicals and goods in catering services. It can positively impact sustainability strategies and policies such as climate protection, the circular economy, health and wellbeing, sustainable agriculture, mobility, and economic relations with other countries.
The procurement of public meals can be done at different levels (from purchasing food only to full-service catering) (How does public catering and procurement work?). This has been taken into account in the development of green public procurement criteria so that public procurers can select the criteria based on their procurement needs. The criteria usually follow the sustainability ambitions that are defined at the organisational level (Strategies for Change).
Food supply chains can be very complex and diverse, and the organisation of food provision as well as the procurement models vary considerably (How does public catering and procurement work?). This needs to be taken into account when planning and executing the procurement of public meals.
The tools in this gateway mainly offer guidance in terms of procurement criteria which suggest which kind of products to procure. These criteria work in alignment with Green Public Procurement criteria. Some tools are meant to support procurement officers in setting up tenders more easily or finding potential suppliers; others are more strategic tools to transform public food procurement itself.
Further Information